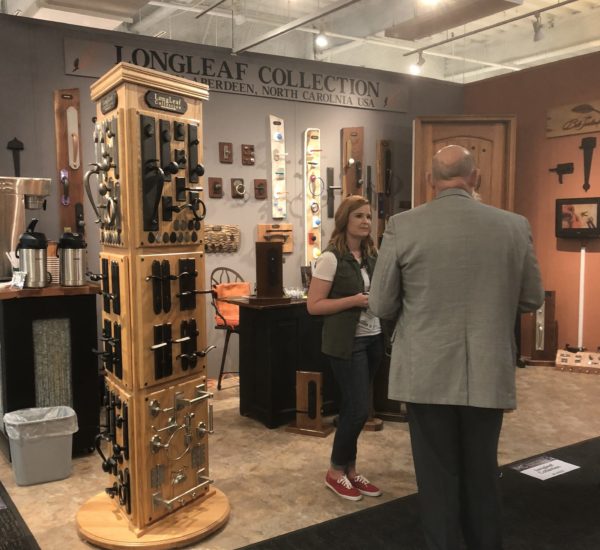 As you make your way around the High Point Market one thing becomes clear—there is no way you can see it all. It's way too big and complex. Regulars know this and come with a game plan. They know where the shops and booths they want to visit are, and they go to the same places, year after year.  Sure, many make time to do a little exploring, too, but most people are most familiar with—and most comfortable in—just a few areas of the market.
This is why after many years as a vendor at the High Point Market (#HPMKT), we are still in the same spot, M-6035 of the Suites at Marketplace building on the 2nd floor. To some, this lack of variety would seem boring. There are people we don't ever see, because we're never in the parts of the market they frequent. But we stay in the same place on purpose because we want to become familiar. We want to build relationships.
Does our strategy work?
People walk by our booth. Some stop to look, some stop to chat, some are our current clients and old friends. Other people walk by like they are going somewhere else. All of it is good, and all of it is part of the intrigue of the High Point Market.
A couple of years ago, there we were at High Point, when a woman stopped by and looked around, inquisitively. I approached her and asked how she was doing. She looked at me like she knew me.
"I've been coming to this market for many years," she explained. "I guess I've walked by your booth every time, because last year you just seemed familiar. This year, I decided to stop and say hi."
We talked some more, and it turned out she's a designer. She showed interest in our custom door hardware designs and is still a client of ours today.
Our booth remains at M-6035 at the High Point Market. And because of our consistent location, sometimes people stop by, even if it takes them a couple of years. Some become clients. Some become friends.  The High Point Market is an amazing place, a living thing that breeds relationships like the one we made with this interior designer.
Yes, our strategy works. Yes, becoming a familiar face matters.